A great connectivity solution for those who don't have access to ADSL or Fibre-to-the Home connectivity.
Super-Fast Speeds
Enjoy speeds between the range of 10 – 50Mbps* that's way faster than your average ADSL line. *Ideal network and coverage conditions.
Just Plug-in & Play
Don't wait around for an installation. As soon as your router is delivered and your service is activated, you'll have Internet connectivity.
Move It With You
Because your LTE-A device does not require a telephone line, you can move it from home-to-home, provided you are within an LTE-A covered area.
Connect Multiple Users At A Time
Our range of LTE-A Routers provides a stable WiFi hotspot that can connect multiple users simultaneously without compromising speed.
Current LTE-Advanced Promotions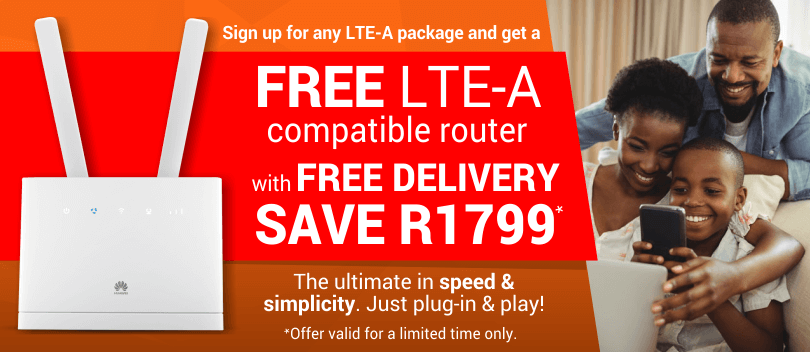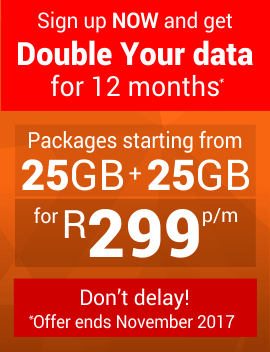 Frequently asked Questions
What is LTE-A?
LTE-A is a mobile broadband technology that uses radio spectrum to provide wireless Internet access. It is the latest wireless broadband technology and is seen as a step up from 3G and LTE due to the superior connectivity speeds, improved stability and coverage.
When can I expect coverage in my area?
The Rain network is expanding on a daily basis. We have a massive core infrastructure and have interconnected all the major metros across South Africa. Keep on checking our coverage map to see if you're in coverage.
What speed can I get with LTE-A?
You can get up to 50Mbps in ideal network and coverage conditions. However, speed is dependent on various factors such as distance from the base station, time of day, terrain, obstacles (such as buildings and trees) etc. It also depends on how many people in the area are connected at the same time on the network and how many devices are being used in-home at the same time.
What does the acronym LTE-A stand for?
Long Term Evolution-Advanced is a standard for high-speed wireless communication that provides true 4G+ speeds for mobile phones and devices.
Why choose LTE-Advanced?
Simple and easy, self-installed in-home connectivity that's affordable without any fixed line installation needed.
Do Out-Of-Bundle Rates apply?
No. There are zero OOB rates and no nasty month end bill surprises to worry about. Our services are hard Capped which means that once you run out of data you'll simply need to Top-up. No long term contracts either.